HEXPOL TPE Receives EcoVadis' Platinum Medal for Sustainability
In recognition of their sustainability work HEXPOL TPE, the international polymer compounding group has achieved platinum status in the EcoVadis ratings for their site in Manchester, UK.
The platinum rating puts HEXPOL TPE's UK site in the top one per cent of companies evaluated in its industry. It was awarded at the end of 2021. The EcoVadis assessment focuses on performance over four themes: the environment, labour and human rights, ethics, and sustainable procurement.
"It takes commitment from many individuals to really work on sustainability. This accomplishment reflects the efforts of employees across the business. It's really the result of people caring about the direction we take and using that concern in their roles," commented Kirsty Wood, sustainability lead at HEXPOL TPE Ltd.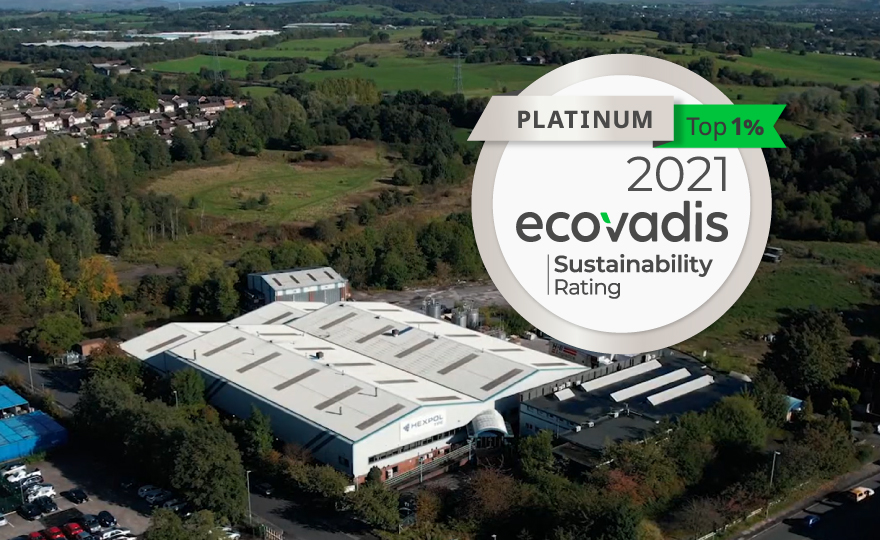 EcoVadis is an independent assessment organisation that evaluates companies' sustainability performance. They rate performance by assessing a company's policies, actions, and results, as well as inputs from third-party professionals and external stakeholders. Their methodology is based on international standards such as the Global Reporting Initiative (GRI), United Nations Global Compact (UNGC) and ISO 26000.
"It's great to see a score like this that complements our ISO 9001, ISO 14001 and ISO 45001 certification. Sustainable and continual improvement is a major focus, and the EcoVadis assessment is an excellent tool to support this goal," added Katie Kenan, SHEQ manager HEXPOL TPE Ltd.
HEXPOL TPE is an international polymer compounding group specialising in Thermoplastic Elastomers (TPE) for key industries such as consumer, medical, packaging, automotive and construction. We were among the 1st companies to produce TPEs in Europe, and more than 50 years later, the possibilities continue to inspire us – yes, we're self-confessed TPE freaks! Our international teams work with customers around the world, developing new polymer combinations & creating customised materials that are safer, more durable, more sustainable. As part of the HEXPOL group of companies, we share an extensive global footprint covering EU, Asia-Pacific and North America, enabling us to support our customers worldwide.
EcoVadis is the world's most trusted provider of business sustainability ratings. Global supply chains, financial institutions and public organisations rely on EcoVadis to monitor and improve the sustainability performance of their business and trading partners. Backed by a powerful technology platform, EcoVadis' evidence-based ratings are validated by a global team of experts, and are adapted to more than 200 industry categories, 160 countries, and companies of all sizes. Its actionable scorecards provide benchmarks, insights, and a guided improvement journey for environmental, social and ethical practices. Industry leaders such as Amazon, Johnson & Johnson, L'Oréal, Unilever, LVMH, Salesforce, Bridgestone, BASF, and ING Group are among the 85,000 businesses that collaborate with EcoVadis to drive resilience, sustainable growth and positive impact worldwide. Learn more at www.ecovadis.com