almaak and HEXPOL TPE Collaborate on 2K Adhesion-Synchronised Materials
As the plastics industry meets at Fakuma 2023, the polymer compounders almaak international and HEXPOL TPE announced a partnership optimising 2K material combinations tailored for automotive. 
TPE materials are used for two-shot or overmoulding soft-touch overlays onto rigid substrates to meet functional, ergonomic or aesthetic requirements. The adhesion of standard TPE is limited to olefin-based substrates like polypropylene, which have limitations regarding heat and rigidity performance. However, chemically modified TPEs allow adhesion to a much wider range of engineering thermoplastics. Enhancing property characteristics to meet more demanding component requirements.  
Volker Krebs (almaak international) and Thomas Köppl (HEXPOL TPE) at Fakuma 2023.
almaak's products include PC/ABS, ABS, PC, ASA, PBT, PA6, PA6.6 and their blends, including materials with up to 100% recycled content. These have been adhesion tested with HEXPOL TPE's portfolio of thermoplastic elastomer materials.  
Automotive applications include interior, exterior and technical parts such as seals, grips, trim, console and interior carrier, grommets, electronic housing, and noise and vibration dampening.  
The engineering thermoplastics and TPE combinations have been tested according to the VDI 2019 standard, which measures the adhesion between materials. TPE is moulded onto the thermoplastic and peeled off at a 90° angle. The required adhesion peel force is measured and describes the adhesion quality. Even for substrates which make bonding difficult, such as PBT, it is possible to get a good adhesion if the substrate and TPE are compatible. For example, Dryflex UV 65.01B220 TPE achieves an adhesion peel force of 3.3 N/mm on Anjacom PBT 455-GF30.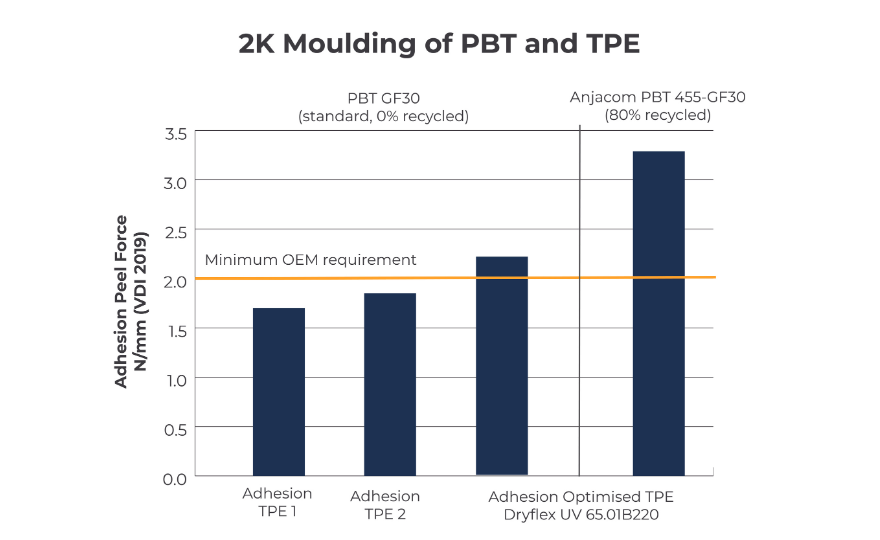 The support package offered by almaak and HEXPOL TPE includes tooling and processing advice.  This is because processing conditions (2K or insert moulding, temperature, injection speed) as well as tool design (geometry, adhesion area, flow length) can also impact adhesion performance.  
HEXPOL TPE is an international polymer compounding group specialising in Thermoplastic Elastomers (TPE) for key industries such as consumer, medical, packaging, automotive and construction. We were among the 1st companies to produce TPEs in Europe, and more than 50 years later, the possibilities continue to inspire us – yes, we're self-confessed TPE freaks!  
Our international teams work with customers around the world, developing new polymer combinations and creating customised materials that are safer, more durable, more sustainable. As part of the HEXPOL Group of companies, we share an extensive global footprint. Covering Europe, Asia-Pacific and North America, enabling us to support our customers worldwide. www.hexpolTPE.com  

HEXPOL TPE Contact for Press Enquiries
Jill Bradford
Group Marketing & PR Manager, HEXPOL TPE
jill.bradford@hexpolTPE.com
The plants in Krefeld and Doberlug-Kirchhain can produce around 60,000 metric tons of engineering thermoplastics (PC/ABS, PC, ABS, PA, PA/ABS, PBT/ASA, PBT, PP etc.) per year on 18 production lines with a flexible hourly output of 25 kg to 1,500 kg. 
These products are mainly used in the automotive industry, in the electrical and household goods sector and in the construction industry. 
almaak has many years of experience in dealing with secondary raw materials and is one of the leading suppliers of sustainable product solutions in Europe. In addition to top-quality products – from medical applications to highly technical innovations of virgin material – the company has for years focused on the development of compounds from sustainable raw materials, for which there is extensive series experience in almost all relevant applications. www.almaak.de  

almaak contact for press enquiries 
Sabine Mindermann 
Executive Assistant to CEO, almaak international  
s.mindermann@almaak.de