Durable TPE with Recycled Content is Key for SAUBA's Bristle-Free Toilet Brushes
The LOOWY toilet brushes from SAUBA (https://sauba.net/ueber-loowy/) are designed to offer eye-catching style blades instead of bristles for hygiene, renewable and recycled materials and German production.
The special blades make the toilet brush easier to keep clean, but if needed, the blade heads are designed to be easy to replace. They are available in different sizes. To match brand aesthetics and all kinds of bathroom designs, the LOOWY are available in various colours.
Two critical requirements for the materials used to make LOOWY are durability and sustainability.
Kathrin Heilmann, sales at HEXPOL TPE GmbH, explained, "We're working hard to turn waste into a resource and help keep valuable materials in circulation. We take recycled polymers (in this application, using Post Industrial Recylate) and incorporate them into the Dryflex Circular range of TPEs. This makes it an ideal fit with SAUBA`s ambition to produce more resource-efficiently and reduce the amount of waste.  
Post Industrial Recyclate (PIR) is material diverted from the waste stream during a manufacturing process. Excluded is the reutilisation of materials such as rework, regrind or scrap generated in a process and capable of being reclaimed within the same process that generated it.
For the LOOWY toilet brush, the TPE also needed to be strong but with a low hardness to give the required flexibility and cleaning performance. The TPE needed to be easy to process and recyclable in closed-loop systems, with the possibility to rework any process scrap.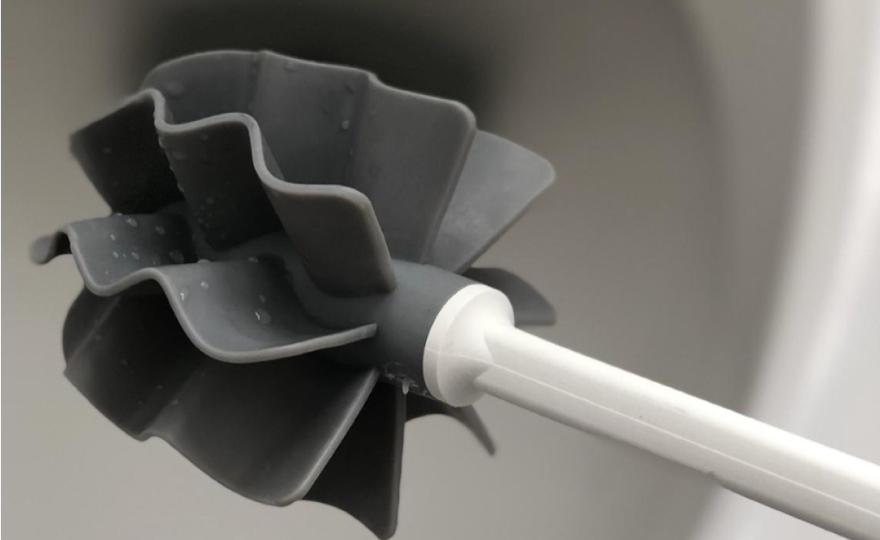 HEXPOL TPE is an international polymer compounding group specialising in Thermoplastic Elastomers (TPE) for key industries such as consumer, medical, packaging, automotive and construction. We were among the 1st companies to produce TPEs in Europe, and more than 50 years later, the possibilities continue to inspire us – yes, we're self-confessed TPE freaks! Our international teams work with customers around the world, developing new polymer combinations and creating customised materials that are safer, more durable, more sustainable. As part of the HEXPOL Group of companies, we share an extensive global footprint. Covering Europe, Asia-Pacific and North America, enabling us to support our customers worldwide.