The Swedish compounders, HEXPOL TPE AB and Polykemi AB, have collaborated on a 2K sustainable development project that reduced the product carbon footprint for consumer products.
Making a material selection can be a complicated task when designing consumer products. There are many properties to balance, and the choice is even more complex when including eco-design principles. Selecting two materials for a 2K part is not doubling the difficulty; it is squared. To help with this decision, HEXPOL TPE and Polykemi has teamed up to enable combinations based on properties and sustainability targets.
To demonstrate the possibilities in reducing the product carbon footprint, increasing recyclability and optimising adhesion, Polykemi's Materialsmart® meets HEXPOL TPE's Sustainable Materials Lab to create tested solutions.
Henrik Palokangas, sustainability specialist at Polykemi and Klas Dannäs, sustainability director at HEXPOL TPE.
Henrik Palokangas, sustainability specialist at Polykemi, commented, "Making an informed choice is key when decarbonising and making the consequences clear is the first step on this journey".
HEXPOL TPE and Polykemi have done substantial work in the field of sustainability, allowing them to provide cradle-to-gate Product Carbon Footprints (PCF) and calculate the Global Warming Potential (GWP) per kg of material.
The PCF data shows that switching from a combination using fossil-based ABS from Polykemi, overmoulded with a fossil-based TPE from HEXPOL TPE, to a recycled PP and TPE with bio-circular attributed content, can give a 77% reduction in CO2e. This combination can also bring advantages when considering end-of-life and recycling compatibility.
Combinations using mechanically recycled ABS with bio-circular attributed TPE were also tested, which gave a 57% reduction in CO2e compared to the fully fossil-based equivalents. The TPE is bio-circular attributed via the mass balance approach using 2nd generation feedstocks.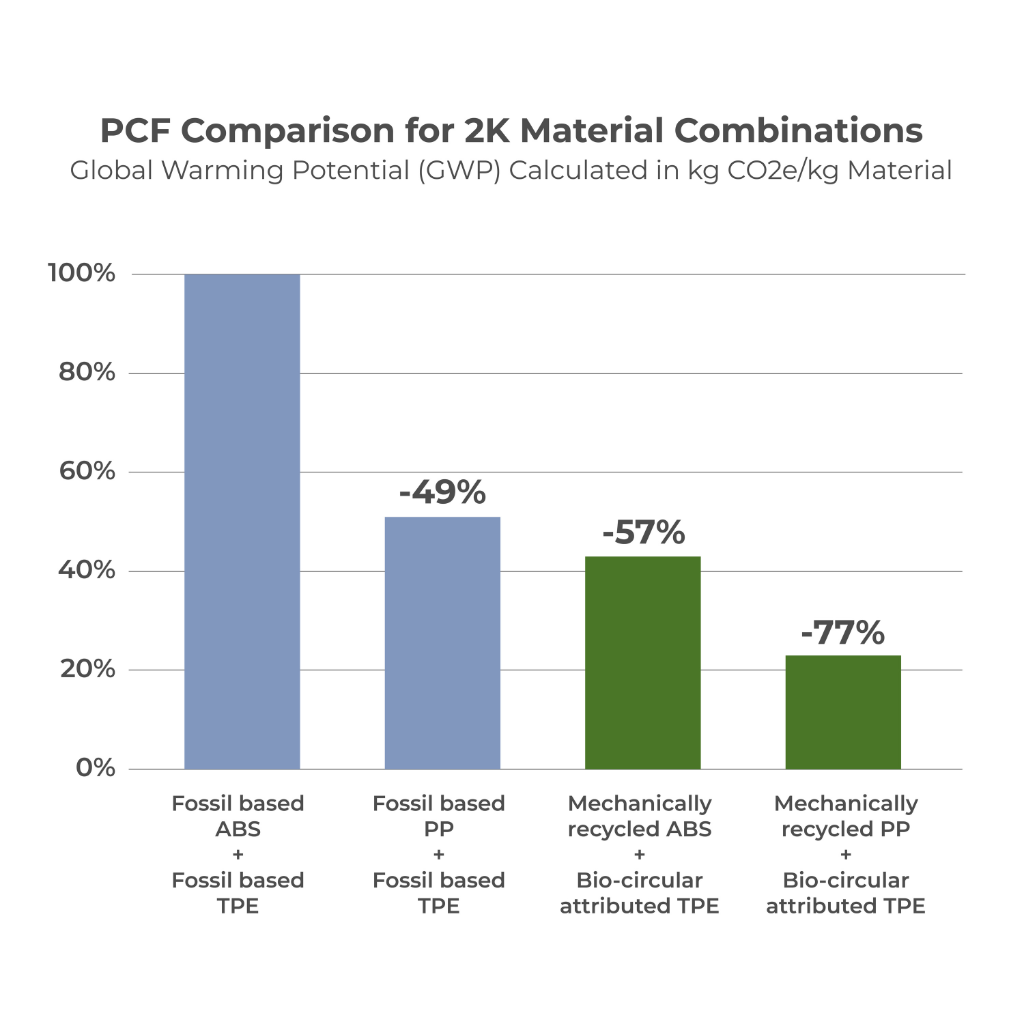 HEXPOL TPE is an international polymer compounding group specialising in Thermoplastic Elastomers (TPE) for key industries such as consumer, medical, packaging, automotive and construction.
We were among the 1st companies to produce TPEs in Europe, and more than 50 years later, the possibilities continue to inspire us – yes, we're self-confessed TPE freaks!
Our international teams work with customers around the world, developing new polymer combinations and creating customised materials that are safer, more durable, more sustainable. As part of the HEXPOL Group of companies, we share an extensive global footprint. Covering Europe, Asia-Pacific and North America, enabling us to support our customers worldwide.
HEXPOL TPE Contact for Press Enquiries
Jill Bradford
Group Marketing & PR Manager, HEXPOL TPE
jill.bradford@hexpolTPE.com
Since its beginning in 1968, Polykemi's mission has been the same: to strive to develop and produce the best customer adapted plastic compounds in the world.
Polykemi Group consists of Polykemi AB, Rondo Plast AB, and Scanfill AB, all based in Ystad, Sweden, as well as Polykemi Compounds Kunshan and Chongqing in China, Polykemi Inc. in Gastonia, NC, USA, and a number of sales companies around the world. With multiple factories in Sweden, China and the USA, we have production on three continents and provides customers worldwide with customized plastic compounds based on both virgin and recycled raw materials of the highest quality.
Since its inception, the family-owned business has helped numerous customers in various industries to select the right materials for their specific products. www.polykemi.com

Polykemi contact for Press Enquiries
Mia Persson
Communications & Marketing
mia.persson@polykemi.se