All roads lead to KUTENO 2022
For the first time, we'll be travelling to Rheda-Wiedenbrück for the Kunststofftechnik Nord regional fair – KUTENO. Meet our team in Halle 2 / F3, where we'll also be joined by our distribution partners ML Plastics 
Among the materials we will present are:
Dryflex Circular TPEs – a family of TPE materials incorporating recycled polymers, such as Post-Consumer (PCR) and Post-Industrial (PIR) recyclate. Typical percentages of recycled content are 10 to 60 % with hardness range from 40 Shore A to 60 Shore D. The Dryflex Circular range includes grades for automotive interiors, with testing for odour and emissions. A representative Dryflex Circular TPE grade, a 65 Shore A material for inlay mats with a recyclate content of 20%, showed a very low amount of VOC (60 μg/g) and FOG (594 μg/g).
Dryflex Green TPEs – a family of biobased TPEs containing raw materials from renewable resources such as plant and vegetable crops. The series includes grades based on Styrenic Block Copolymer (TPS) and Thermoplastic Polyolefin (TPO) technologies, with amounts of renewable content to over 90% (ASTM D 6866-12) and hardness from 15 Shore A to 60 Shore D. 
Lifolit soft PVC – a family of high-quality, soft polyvinyl chloride (PVC) compounds, custom formulated to your requirements. We work with a number of raw materials and plasticizers to give the best performance / cost ratio while always keeping in compliance with the different levels of phthalate use. This includes DEHP free PVC as well as grades that are considered low in Volatile Organic Compounds (VOCs).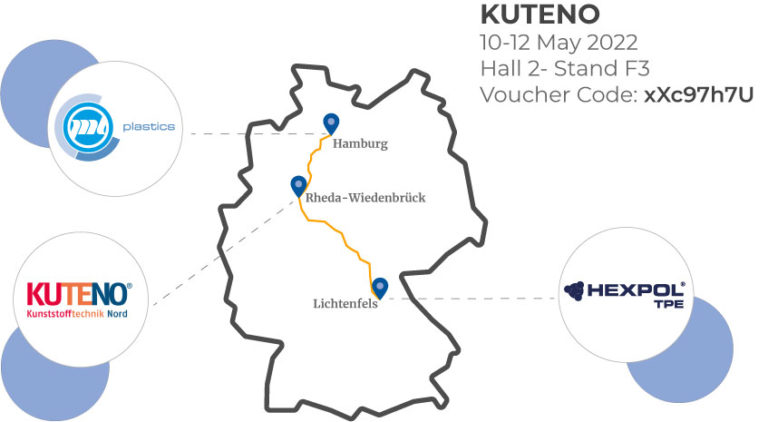 To register for your free entrance ticket to the show, click the button below and use code xXc97h7U