TSL OUTDOOR help winter walkers find the right combination of flex and comfort with Dryflex TPEs
Leading snowshoe manufacturer TSL Outdoor selected two Dryflex thermoplastic elastomer grades from global compounding group HEXPOL TPE for their hyper-flexible and lightweight snowshoes.
TSL Outdoor snowshoes are specially designed for mountain regions with temperate climates. They are designed to give a sure and safe grip, be easily adjustable for user comfort and include several high-tech features for precise tracking. The design of the snowshoes allows them to adapt to the unevenness of the terrain to give better traction while allowing for a natural movement of the foot.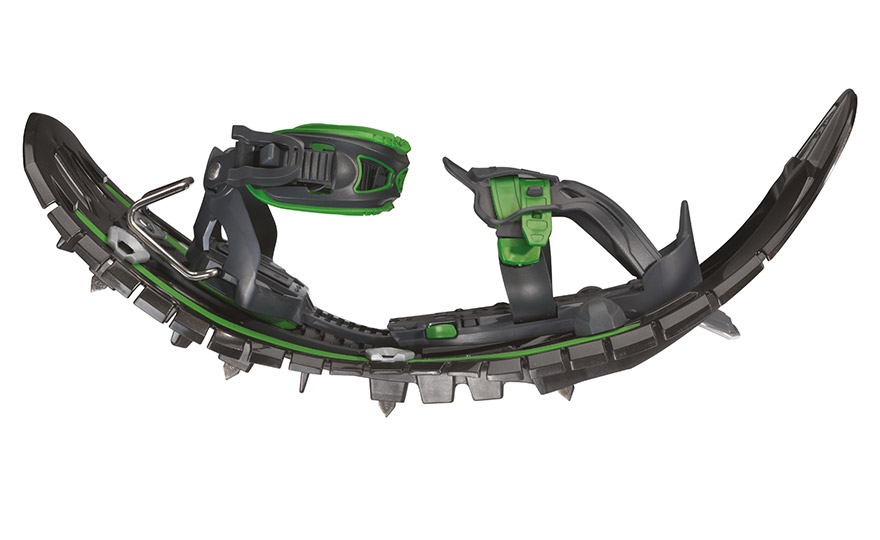 HEXPOL TPE developed two Dryflex TPE compounds for the TSL Symbioz snowshoes. One of the TPE compounds is used as part of TSL's patented Sound and Shock Absorbing System (SSAS), where the softness and flexibility of the TPE helps to create a cushioning function and aids user comfort. The second TPE compound was developed for a bi-material, comfort strap.
Speaking of the project, Yoan BIBOLLET, R&D Engineer at TSL Outdoor commented "For our new ankle clamping design, we were looking for materials that offer comfort for the user while maintaining good mechanical strength. With the wide range of properties available from Dryflex TPEs, we were confident that we would find the right materials for our specifications. The quality of Dryflex TPEs ensures the chemical adhesion between the soft zones (for the comfort) and hard zones (for the mechanical forces). This has allowed us to develop several new applications for our outdoor products, especially in Nordic walking sticks. Previously, this piece was made of textile and produced in Asia, the new bi-material TPE strap has also allowed us to relocate production to our injection moulding site in Haute-Savoie. The relocation gives us greater flexibility and offers more customisation possibilities for special series (for example the ease of colour change), whereas our previous textile version imposed high minimum quantities for special colours".

HEXPOL TPE is a global polymer compounding group specialising in Thermoplastic Elastomers (TPE) for key industries such as consumer, medical, packaging, automotive and construction. Driven by a core belief in being the easiest company to do business with, HEXPOL TPE is dedicated to delivering a trusted combination of application know-how, R&D, production capabilities and comprehensive technical services. As part of the HEXPOL group of companies, we share an extensive global footprint covering EU, Asia-Pacific and North America, enabling us to support our customers worldwide.